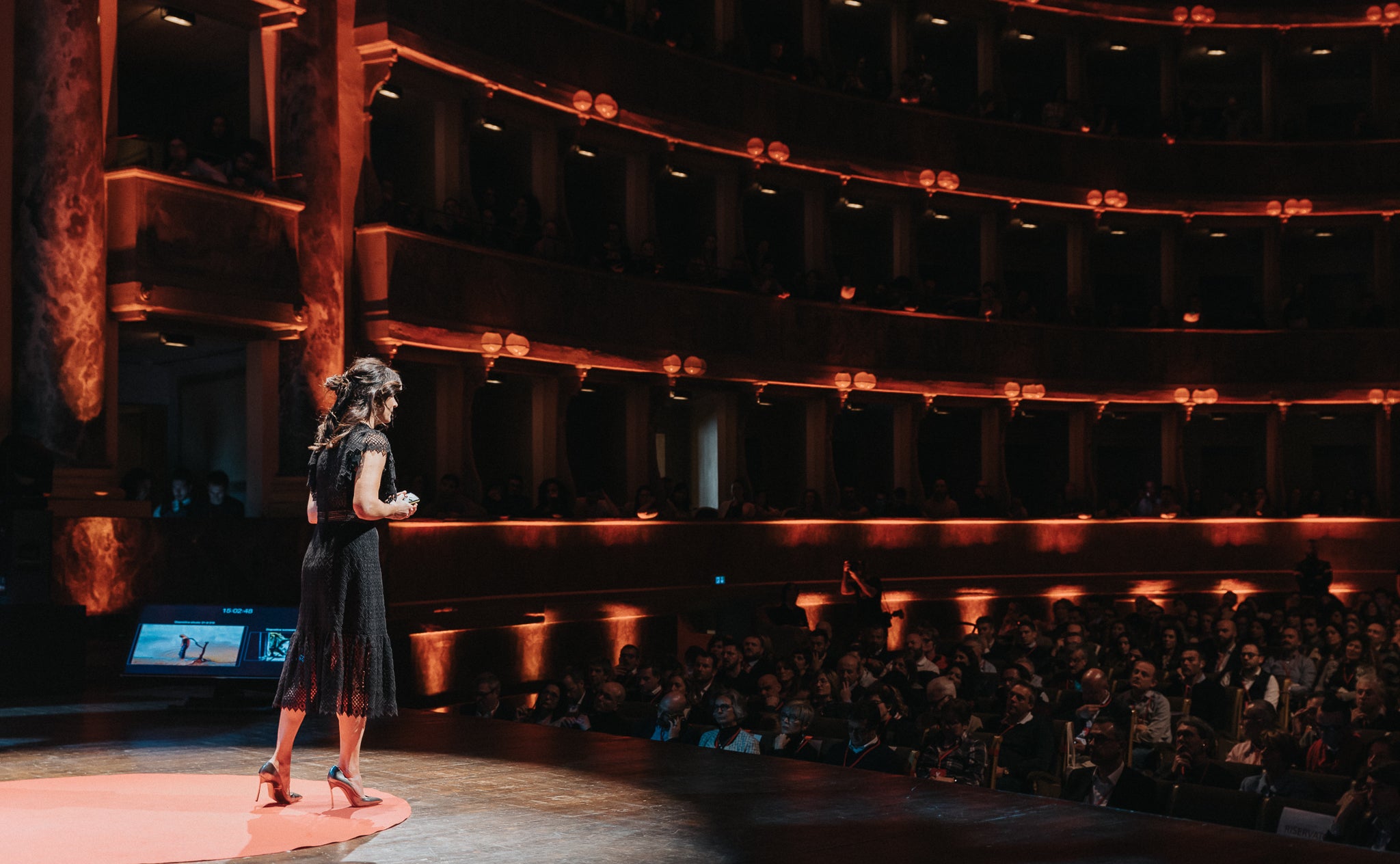 Inspiring Future Changemakers
Inspiring Future Changemakers
Inspiring Future Changemakers
Work with Vital Impacts to bring inspiration into your school!
Today's most compelling environmental artists and scientists have come together to rally around a cause—inspiring the next generation of environmental stewardship through the Vital Impacts Student Speaker Series.
Vital Impacts has partnered with Changemaker Talent to bring world-class storytellers to students across North America, to tell the story of our planet.  
Presented on a variety of stages, these compelling talks blend storytelling with award-winning imagery to bring to life the biodiversity crisis and the people and programs working toward a sustainable future. Through entertaining and educating content, these shows help students imagine a future career that will benefit the planet.
ENVIRONMENTAL HERO
Ami Vitale
Nikon Ambassador and National Geographic photographer, writer and filmmaker Ami Vitale, has been a pioneer in creating unique conservation stories that amplify the work of communities on the front lines of grassroots conservation. She has traveled to more than 100 countries, documenting the heartbreaking realities of war to witnessing the inspiring power of individuals making a difference.
Throughout the years, Ami has lived in mud huts and war zones, contracted malaria, and donned a panda suit—keeping true to her belief in the importance of "living the story." Her award-winning work illuminates the unsung heroes and communities working to protect wildlife and finding harmony in our natural world. Her photographs have been commissioned by nearly every international publication and exhibited around the world in museums and galleries.
MASTER OF THE INVISIBLE
Anand Varma
Anand Varma grew up exploring the woods near his childhood home in Atlanta, Georgia. As a teenager, he picked up his dad's old camera on a whim and found that he could use it to feed his curiosity about the natural world—and to share his discoveries with others.
Anand studied integrative biology from UC Berkeley and now uses photography to share the story behind the science on everything from honeybee health to hummingbird biomechanics. He works to reveal the invisible details around us with the goal of sparking a sense of wonder about our world.
Anand has recently founded the non-profit WonderLab, a physical space designed for experimentation and excellence in science communication. It offers mentorship and education opportunities for aspiring students to learn new ways to explore science and storytelling.
EMMY AWARD-WINNER
Brian Skerry
Brian Skerry is a visual storyteller specializing in marine wildlife and underwater environments. Since 1998 he has been a contributing photographer for National Geographic magazine.
In 2014 he was named as a National Geographic Society Photography Fellow and named a National Geographic Storytelling Fellow in 2017. In 2017 he was also awarded the title of Rolex National Geographic Explorer of the Year.
VISIONARY
Keith Ladzinski
Over the past 2 decades, Keith Ladzinski has traveled widely throughout the seven continents to many of the planet's most remote and formidable locations documenting high altitude climbing expeditions, exploration, wildlife, scientific discovery, climate change and sever weather events. His passion for story telling has earned him 12 National Geographic Assignments, 3 cover stories and an Emmy nomination.
Notable and award winning stories include documenting the Great Lakes of North America, Sauropod Dinosaur discoveries in the African Sahara, Storm Chasing in Tornado Alley, the Over Harvesting of Krill in Antarctica, and a wide range of climbing stories from Greenland, Mt Everest to Antarctica.
GOODWILL AMBASSADOR
Mattias Klum
Mattias Klum was born in Uppsala, Sweden in 1968. He has worked full-time as a photographer since 1986, and as a cinematographer and director on numerous film and television projects since 1994.
Mattias is internationally recognized for describing and portraying animals, plants, and natural and cultural settings in the form of articles, books, films, lectures and exhibitions. His artistic photographic language has rendered him success not only in the world of documentaries but also in the art scene.
Mattias has undertaken numerous major expeditions to Malaysia, India, Nigeria, Brazil, Costa Rica, Guyana, Thailand, South Africa, China, Iceland, Galapagos, Ecuador, Botswana, Panama, Mongolia, Peru, Rwanda, Zimbabwe, Hawaii, Antarctica, and Borneo - where he has returned for more than 20 years.
The Female Indiana Jones
Mireya Mayor
A former NFL cheerleader, daughter of Cuban immigrants, Dr. Mireya Mayor followed her unlikely dreams to explore the world in the name of science.
In short order, she became a respected primatologist, audacious explorer, National Science Foundation Fellow, Fulbright Scholar, and an Emmy Award-nominated wildlife correspondent for National Geographic Channel. This mother of six also serves as Director of the Science Communications Initiative at Florida International University, in Miami; redefining what work-life balance might look like.
Dr. Mireya Mayor has earned the nickname "the female Indiana Jones," but the fashion-loving anthropologist always packs an accessory Harrison Ford's character never would: a black dress — "should an unforeseen occasion arise."
Freshwater Hero
Pete McBride
Native Coloradan Pete McBride has spent two decades studying the world with a camera. A self-taught photographer, filmmaker, writer, and public speaker, he is a Sony Artisan of Imagery and has traveled on assignment to over 75 countries for the National Geographic Society, Smithsonian, Google, and The NatureConservancy. He has also spoken on stages for TEDx, The World EconomicForum, USAID, the Nat Geo Live speaker series, and others.
After a decade documenting remote expeditions from Everest to Antarctica, McBride decided to focus his cameras closer to home on a subject closer to his heart—his backyard river, the Colorado River. Four years and 1,500 river-miles later, McBride produced an acclaimed book, three award-winning documentaries, and co-hosted a PBS TV program. Other watersheds soon called, including a source-to-sea look at India's sacred Ganges River. Upon completing the journey, The National Geographic Society named McBride a "Freshwater Hero."
WOLFPACK LEADER
Ronan Donovan
National Geographic Explorer Ronan Donovan is a wildlife biologist turned conservation photographer. He uses visual storytelling to illuminate stories related to our fellow social mammals to remind us that we are all connected. Ronan embeds for months at a time, year after year, with wild families of wolves, chimpanzees, and mountain gorillas to capture imagery that highlights our shared challenges, behaviors, and family bonds.
Ronan's film work, titled Kingdom of the White Wolf has aired on NatGeo Wild, he's also filmed for several PBS Nature series, and for the upcoming series Planet Earth 3. Ronan's first photo exhibition, entitled Wolves, is currently traveling around the US for the next 4 years.
BIG CAT CHAMPION
Steve Winter
Steve Winter is a wildlife photojournalist, producing stories across four continents for National Geographic magazine and other media outlets for decades. He photographs both animals and the people that live with them, the environments they inhabit, the threats that face them—and conservation efforts that are saving them.
Steve is known for capturing previously-unseen images of endangered, elusive or dangerous species, including tigers in Asia, jaguars in the Brazilian Pantanal, Leopards in Mumbai, Asian and African elephants and snow leopards in the Himalayas. His photographs of the beloved cougar P-22 in Los Angeles helped create what will be the world's largest wildlife corridor over the 101 Freeway to connect habitat.
DOG WHISPERER
Vincent J. Musi
Vincent J. Musi could be considered the quintessential National Geographic photographer. From the legendary Route 66 to the ancient crypts of Sicily and life under volcanoes, his magazine stories have explored landscapes, archaeology, history, and culture for the last 27 years. When his work shifted to photographing animals, he knew he was in over his head and feared it would end his career.
He's still unsure, as he works with subjects who routinely growl, bark, roar, bite, hiss, claw, poop, or pee...on him. For 20 years, he's been the host of the National Geographic Storytellers Summit, bringing together inspirational and influential photographers, writers, filmmakers, illustrators, and journalists to celebrate the art of storytelling to inspire change. His latest book, The Year of the Dogs, is based on his weekly Instagram posts featuring hilarious stories about dogs and his life photographing them. Vince believes that everything we learn about animals teaches us everything we don't know about ourselves.
"I didn't know any of this existed. I didn't ever think about the world of wildlife and nature or know that there are opportunities to do this as a career. Will you be my mentor?
I just wanted to say thank you so much for sharing your experiences. We had an incredible discussion afterwards about some of the topics and issues that you covered.
After listening to your presentation, I now want to learn more about world problems like conflicts between countries or religions, and how we can solve those problems.
You are a formidable force for the planet and your drop in the ocean of mankind's shortcomings does make ripples. May they turn into tidal waves and change our world for the better.
I work at a lower socioeconomic school, so these images will give students an opportunity to see parts of the world that would otherwise be impossible!
You had a very powerful message to share which I will keep in my head whenever I try and pursue my dreams.
You so touched my heart. Your energy and love for your craft and life filled my heart with such joy. The passion you explored with us was stunning. Your words are still dancing in my energy field.
Our Student Speaker Series Is Presented By
Vital Impacts, a non-profit that inspires the care of our natural world by using photography to create empathy, awareness, and understanding across cultures and to help us see that the survival of the natural world is intertwined with our own survival.
Changemaker Talent, a speakers bureau on a mission to elevate the conversation, spark community, and amplify the bold ideas of original thinkers—a broad mix of photographers, filmmakers, journalists, CEOs, scientists, artists, and thought leaders.
Bring a Speaker to Your Community
Vital Impacts Student Speaker talks are designed for audiences of 500 and larger. They are perfect for Performing Arts Centers, school auditoriums, libraries with theaters, institutions with theaters (i.e., Aquariums, Zoos, Museums), IMAX theaters and more.
For program pricing and to book a speaker for your school or organization, please email hello@changemakertalent.com.
For general questions, please email hello@vitalimpacts.org.
Photos by Jeanne Modderman, Steve de Neef, Pete McBride, Ronan Donovan, Ami Vitale and Vincent J. Musi.